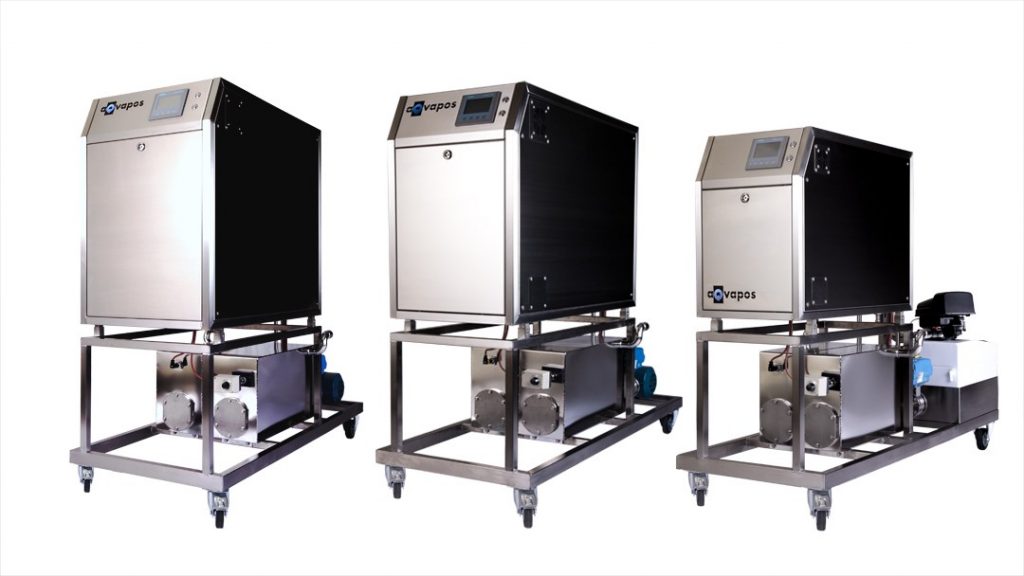 Aqvapos steam generators are produced in Germany. They are modular designed from stainless steel to be customizable to ever changing demands. Our steam generators are self-regulated and operate in a fully automatic mode.
A specific computer controlled system monitors all relevant parameters such as water level, temperature and pressure to ensure a precise, smooth and reliable operation.
Characteristics such as high energy efficiency of approx. 98%, low operation costs, ease of use and maintenance are the result of a long and meticulous development process carried out by our qualified engineers that offer more than 20 years of experience in construction and production of electrically powered steam generators.
We offer three types of steam generators with an operating pressure between 0 and 12 bar varying in the maximum steam capacity per module of 28, 63 and 112 kg/h of saturated steam as end product. Higher capacity may be achieved by combining two ore more steam generators. An additional advantage of such multi-modular is a high degree of operational safety.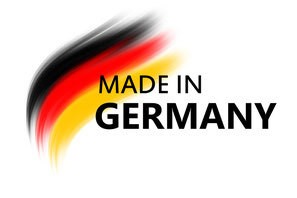 up to 28 kg/h of saturated steam per steam module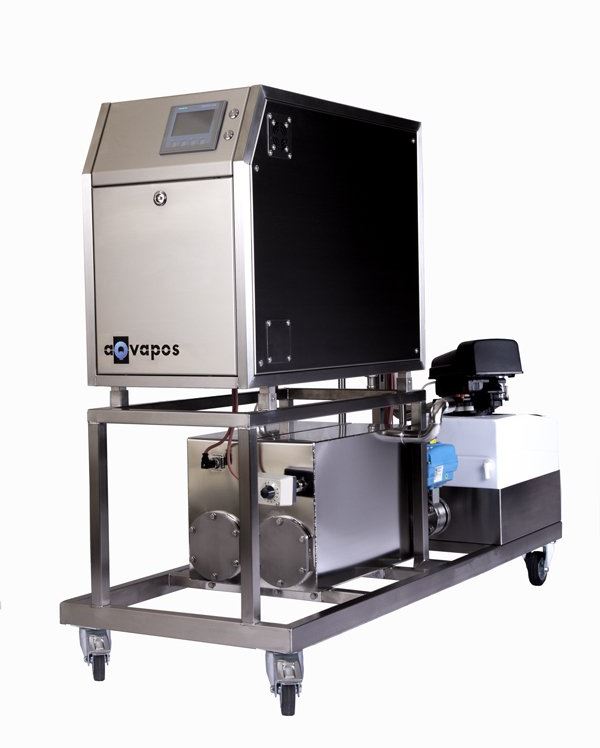 Technical data aqvapos MM3
working pressure 0 - 4 bar

working pressure 0 - 9 bar

working pressure 0 - 12 bar

Type
MM3-10/4
MM3-15/4
MM3-20/4
MM3-10/9
MM3-15/9
MM3-20/9
MM3-10/13
MM3-15/13
MM3-20/13
Steam capacity
14 kg/h
21 kg/h
28 kg/h
14 kg/h
21 kg/h
28 kg/h
14 kg/h
21 kg/h
28 kg/h
maximum operating temperature
151,8 °C
179,9 °C
191,6 °C
Max. operating pressure
0 - 4 bar
0 - 9 bar
0 - 12 bar
Max. operating over pressure
5 bar
10 bar
13 bar
Boiler heating
10kW
15kW
20kW
10kW
15kW
20kW
10kW
15kW
20kW
Input voltage
400 V - 3PH 50 Hz
400 V - 3PH 50 Hz
400 V - 3PH 50 Hz
Protection
16A
25A
32A
16A
25A
32A
16A
25A
32A
Dimensions steam generator
811,5 mm x 420 mm x 725 mm
811,5 mm x 420 mm x 725 mm
811,5 mm x 420 mm x 725 mm
up to 63 kg/h of saturated steam per steam module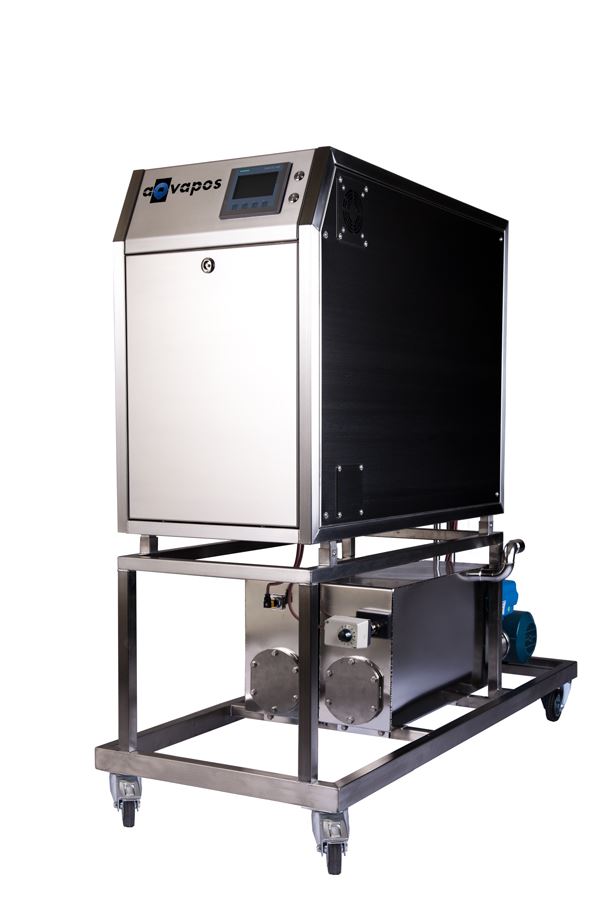 Technical data aqvapos MM4
working pressure 0 - 4 bar

working pressure 0 - 9 bar

working pressure 0 - 12 bar

Type
MM4-30/4
MM4-40/4
MM4-45/4
MM4-30/9
MM4-40/9
MM4-45/9
MM4-30/13
MM4-40/13
MM4-45/13
Steam capacity
42 kg/h
56 kg/h
63 kg/h
42 kg/h
56 kg/h
63 kg/h
42 kg/h
56 kg/h
63 kg/h
maximum operating temperature
151,8 °C
179,9 °C
191,6 °C
Max. operating pressure
0 - 4 bar
0 - 9 bar
0 - 12 bar
Max. operating over pressure
5 bar
10 bar
13 bar
Boiler heating
30kW
40kW
45kW
30kW
40kW
45kW
30kW
40kW
45kW
Input voltage
400 V - 3PH 50 Hz
400 V - 3PH 50 Hz
400 V - 3PH 50 Hz
Protection
50A
63A
80A
50A
63A
80A
50A
63A
80A
Dimensions steam generator
1040 mm x 490 mm x 884 mm
1040 mm x 490 mm x 884 mm
1040 mm x 490 mm x 884 mm
up to 112 kg/h of saturated steam per steam module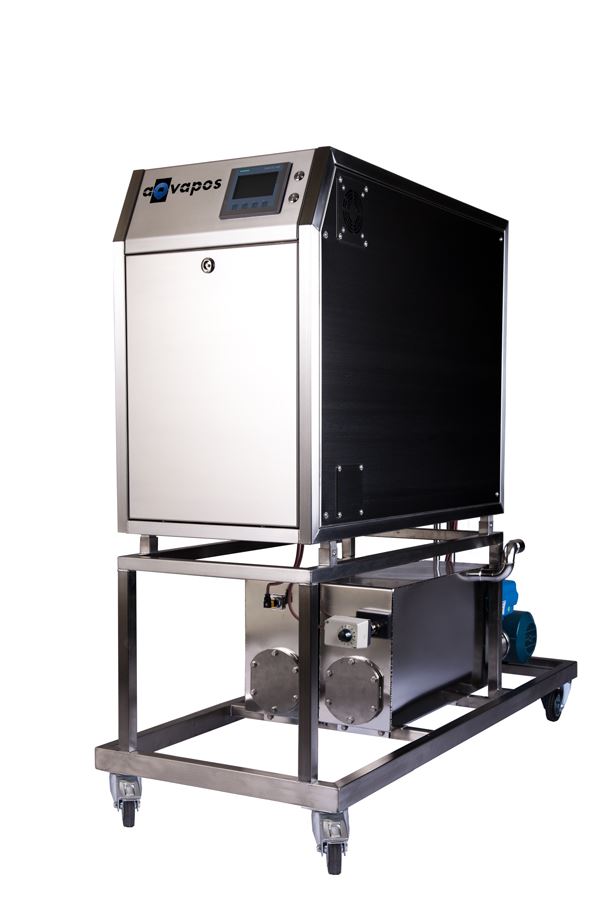 Technical data aqvapos MM5
working pressure 0 - 4 bar

working pressure 0 - 9 bar

working pressure 0 - 12 bar

Type
MM5-60/4
MM5-70/4
MM5-80/4
MM5-60/9
MM5-70/9
MM5-80/9
MM5-60/13
MM5-70/13
MM5-80/13
Steam capacity
84 kg/h
98 kg/h
112 kg/h
84 kg/h
98 kg/h
112 kg/h
84 kg/h
98 kg/h
112 kg/h
maximum operating temperature
151,8 °C
179,9 °C
191,6 °C
Max. operating pressure
0 - 4 bar
0 - 9 bar
0 - 12 bar
Max. operating over pressure
5 bar
10 bar
13 bar
Boiler heating
60kW
70kW
80kW
60kW
70kW
80kW
60kW
70kW
80kW
Input voltage
400 V - 3PH 50 Hz
400 V - 3PH 50 Hz
400 V - 3PH 50 Hz
Protection
100A
125A
125A
100A
125A
125A
100A
125A
125A
Dimensions steam generator
1040 mm x 570 mm x 975 mm
1040 mm x 570 mm x 975 mm
1040 mm x 570 mm x 975 mm
Additional modules - optionally available